Awards
2014 Awarded the title of the "Best Tall Building Worldwide"
2015 Best Innovative Green Building - MIPIM Awards 2015
2019 Overall category award for Urban Habitat - District/Master Plan Scale at the 2019 CTBUH Awards for Excellence
2020 Environmental Excellence Award, UDIA* WINGATE National Awards for Excellence
The Central Park Project is being undertaken in the central part of Sydney, Australia, to build a sustainable community.In 2014, One Central Park, one of the high-rise condominiums constructed as part of this project, was awarded the title of the "Best Tall Building Worldwide" - one of the most prestigious architectural titles in the world - by CTBUH* as for the innovative technologies, such as massive vertical gardens; rooftop gardens; and a giant heliostat that directs sunlight into communal areas. In 2015, the building was also named the "Best Innovative Green Building," another prestigious title given to the most innovative and eco-friendly building in the world, at the MIPIM* Awards, making Sekisui House the first private-sector corporation to win this honor. In 2019, One Central Park was given another international award by CTBUH - the overall category award for Urban Habitat - District/Master Plan Scale at the 2019 CTBUH Awards for Excellence -, and proved itself, again, as the world's best practce in both building and space development, in both name and substance.

*UDIA: Urban Development Institute of Australia
*MIPIM: One of the world's largest events for real estate professionals
*CTBUH: Council on Tall Buildings and Urban Habitat
Property information
Site area : 560,000m²
No. of residential units : approx. 2,000
Student Accommodation : approx. 700 units
Hotel : approx. 300 guest rooms
Office : approx. 6,000 m²
Commercial Facilities : approx. 15,000 m²
Completion of Construction : 2018
POINT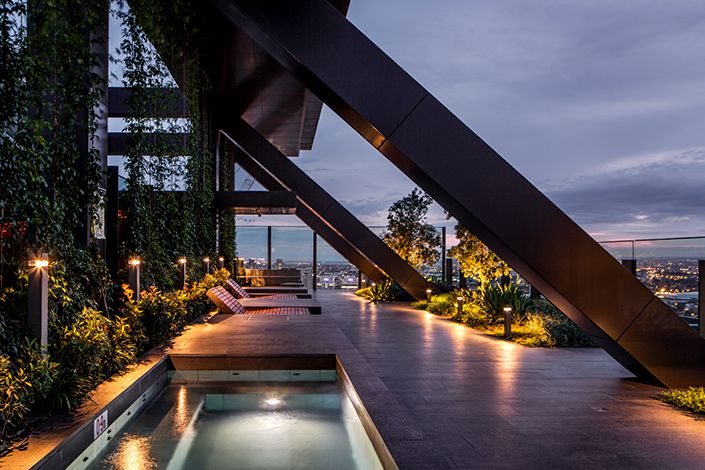 Sky Garden
The Sky Garden rests lightly on a huge cantilever extending 40 m from the facade of One Central Park's East Tower. It's an urban oasis high above the city, with an expansive terraced deck with a Jacuzzi, outdoor dining and comfortable sun loungers, to be enjoyed by an exclusive few.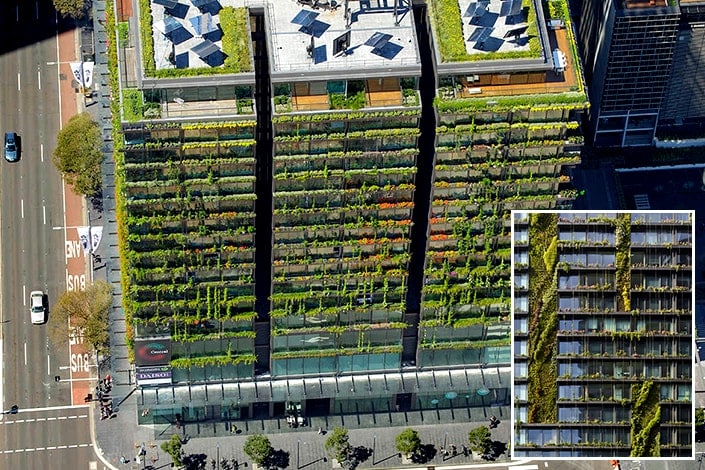 Green Wall
The public park at the heart of the precinct climbs the side of the floor-to-ceiling glass towers to form a lush 21st century canopy. Using 250 species of Australian flowers and plants, the buds and blooms of the vegetation form a beautiful composition on the facade.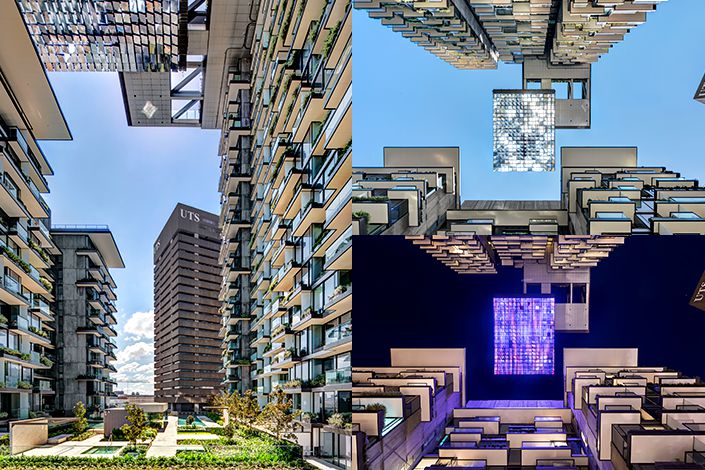 Cantilever & Heliostat
Here there is a beguiling assembly of motorized mirrors that capture sunlight, and direct the rays down onto Central Park's courtyards. After dark the structure is a canvas for a leading light artist's LED art installation that carves a shimmering firework of movement in the sky.
Contact us about the project


- Sekisui House Australia Holdings Pty Limited -